My illustrated book
PSALM 23:
You Are With Me
Treat your loved ones (or you) to this beautifully illustrated classic psalm.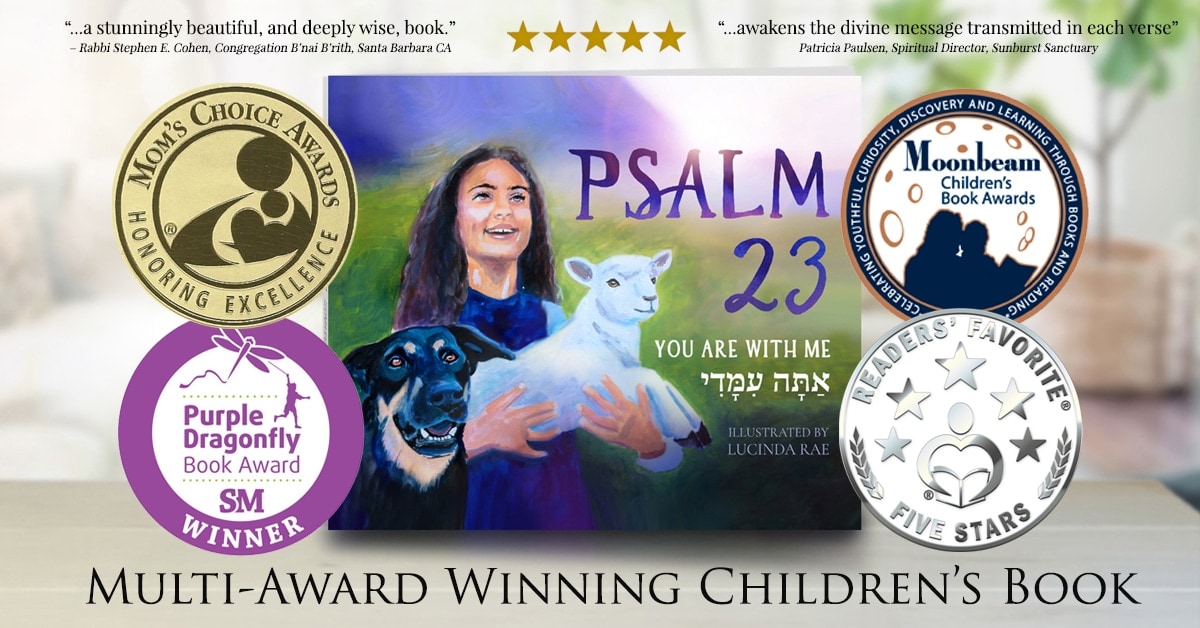 "You have created a stunningly beautiful, and deeply wise, book."
– Rabbi Stephen E. Cohen, Congregation B'nai B'rith, Santa Barbara CA
PSALM 23: You Are With Me
Psalm 23 is one of the most beloved songs of trust in the Bible. The simple, profound and beautiful verses have the power to comfort and bring peace to many. When we go through troubled times, this psalm helps us remember God is always present. Lucinda Rae's illustrations invite the reader on a visual journey into the wilderness with a young shepherdess, accompanied by her trusted dog and a lamb, reminding us that we are being guided by the ultimate shepherd, God. The paintings evoke an emotional response including contentment, and confidence, inviting us into a personal relationship with the Creator. Each verse is painted individually to convey each step on the journey of this psalm. The ancient wisdom within this song is relevant today and continues to benefit readers young and old.
More kind words about the book
PRAISE FOR PSALM 23: YOU ARE WITH ME
"The psalms are timeless, ancient human voices speaking to us out of the distant past. The challenge facing any teacher, any translator, any illustrator of the psalms is to capture and convey the deeply human emotions of the ancient words without "modernizing," and thereby watering down, the text. In this stunning book, Lucinda Rae has succeeded at bringing the old words to life, in all their depth, antiquity and mystery, and making them accessible to both adults and children. Lucinda, thank you." – Rabbi Stephen E. Cohen, Congregation B'nai B'rith, Santa Barbara CA
"Lucinda Rae's spirited illustrations of this sacred song of protection seen through the eyes of a child, simply awaken the divine message transmitted in each verse. The message of the universal connection we all have with our Creator, our Shepherd, can be felt, known and seen through our love. The authentic Hebrew gives a deep living vibration to this timeless song!" – P. Paulsen, Spiritual Director, Sunburst Sanctuary
"This beautiful book is the perfect vehicle to teach our little ones both about God and His qualities and also about the ideal relationship for us to build with Him. The words of the psalm are not only comforting but instructive and Lucinda's stunning illustrations are captivating for children and adults too. I am thrilled to introduce my own little ones to the 23rd Psalm with this gorgeous book at bedtime, and I am also grateful to have such a vehicle for myself at the end of the day, to lead us all into quiet, peaceful and blessed sleep." – Brandy Mussman, M.A., CA